Touch-Plate LED. The Leader in LED Technology. Trusted Lighting Resource for over 70 Years!  Our staff is highly trained in LED, Lighting & Controls.
Low-voltage Lighting Experts, LED Lighting Experts, AEP Rebate Specialists
Touch-Plate offers a 5 Year Limited Warranty on all our Products. We have a large inventory of the best priced per lumen LED lights in the anywhere in the USA.
UFO High Bay, Linear High Bay, T8 Bulbs, Parking Lights, Panel Lights, Wall Packs, Work Lights, Canopy Lights, Corn Light Bulbs, Flood Lights, Barn Lights, Down Lights, Area Light Bulbs.
Touch-Plate LED: Sales Terms & Conditions
created: 07/21/2016
updated: 07/07/2019


Quote Pricing
Pricing remains valid for a period of 30 calendar days, unless other wise stated in writing. This may be withdrawn, if an order has not been placed, prior to the expiration of the 30 days.

All prices stated via the quote include taxes, delivery, and installation (if applicable).

Touch-Plate is not obligated to honor prices given by mistake from any source.

Touch-Plate reserves the right to sell to any customer and reserves the right not to sell to any customer.
Order Changes and Additions
Any order that requires a change or addition requires that the customer provide a new Purchase Order, Revised Purchase Order, or request for Quote for such items.

Emails, text messages, etc sent with this information and not sent via the format as described above, do not constitute an acceptance by Touch-Plate & will not be included in your current order.
Order Cancellation
An order accepted by Touch-Plate is not subject to cancellation.

Action taken to cancel may be treated as renunciation resulting in the customer being held liable for any and all losses or expenses incurred.

Examples of such losses and expenses are: administrative, return costs, shipping, engineering, design, quotes, travel, labor costs, etc. sustained by Touch-Plate.

Acceptance of an order by Touch-Plate does not necessarily imply conformance with plans and specifications, unless those accompany the order and Touch-Plate accepts them.
Domestic Delivery / Shipping Policy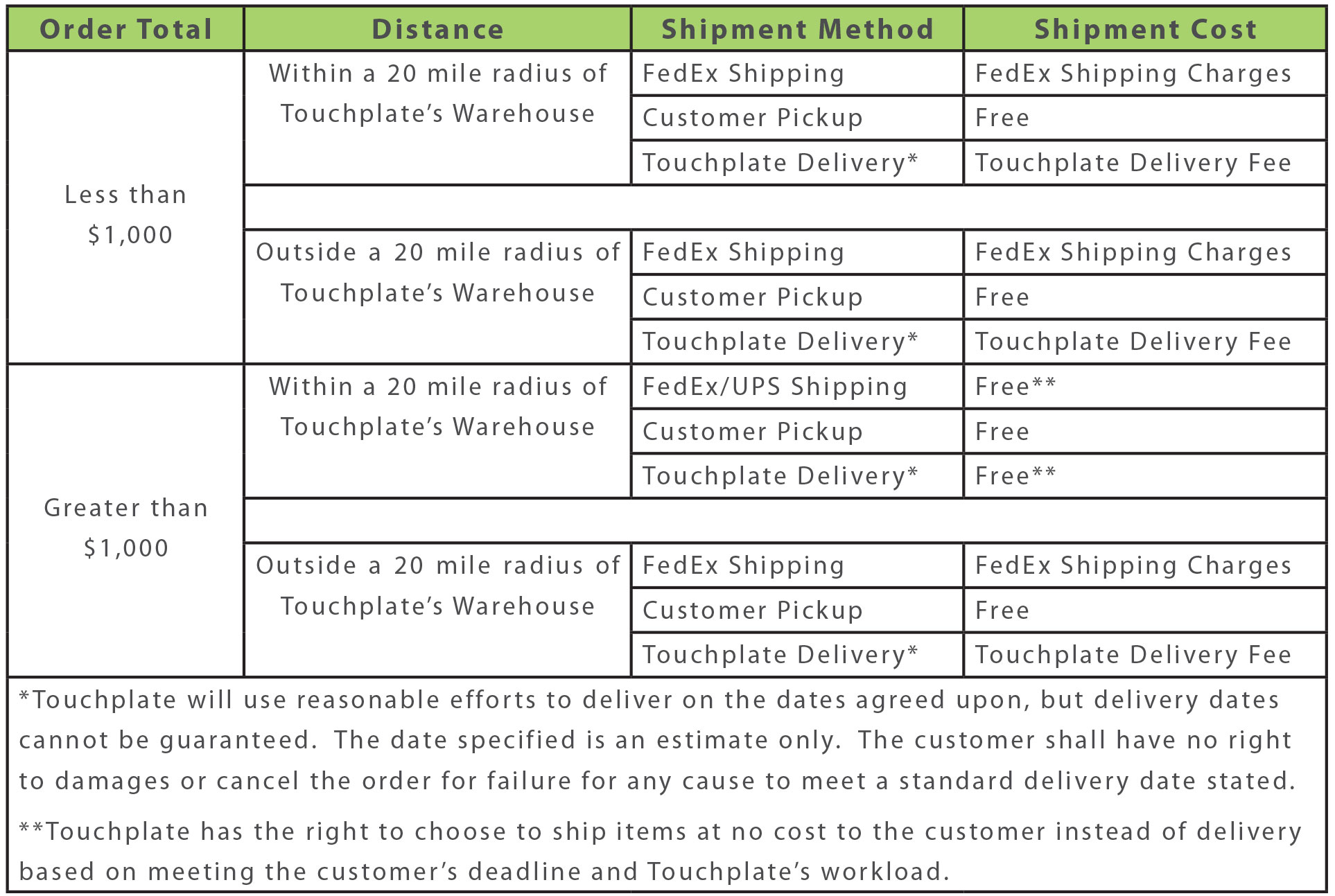 Payment Terms
Acceptable payment types are as follows:
PayPal (Preferred Method)




Contractor/Wholesaler Net 10, 20, 30 (with approved credit from Touch-Plate)




Exception: A quote may require a down payment to secure the pricing on the quote. This is not subject to the Net terms and is required to be paid upon receipt of the invoice.

In the event of non-payment or non-payment of the Credit Card Service Charge, the purchaser will be liable for any collection costs, attorney fees, or other charges incurred from collection efforts.
Short Orders
Any missing or incorrectly shipped/delivered item(s) must be reported within five (5) days of receipt of shipment. You must contact us by phone or email, so Touch-Plate can re-ship or credit the missing item(s). Failure to do so will relieve Touch-Plate of any liability of cost or material associated with the missing item(s).
Product Warranty
The duration and terms of our warranty varies by product. Please refer to the specific item's sales sheet for more details.

Touch-Plate warrants, that at the date of sale, the Product conforms to our published specification and is free from defects in material or workmanship. In general, this warranty will expire five (5) years from the date of sale and is non-transferable.

If the product has a defect arise and a valid claim is received within the allowed time period, we will correct the failure within a reasonable period of time. All replacement products are warranted only for the remainder of the original warranty period.
Notification of Changes
Touch-Plate reserves the right to change these Terms & Conditions from time to time as they see fit and your continued purchase orders will signify your acceptance of any adjustment to these terms.
Applicable Law
The laws of the State of Indiana governs all sales agreements.